Chinese Foreign Policy: The Maoist Era and its Aftermath
Joseph A. Camilleri, Chinese Foreign Policy: The Maoist Era and its Aftermath, Oxford: Martin Robertson, 1980 (also published in Seattle, University of Washington Press, 1980).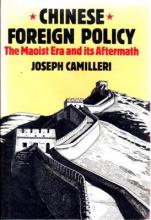 Within the space of twenty years, the foreign policy of the Chinese state has turned half circle, substituting the Soviet Union for the United States as its principal enemy and shifting its domestic economic priorities from national self-reliance to extensive dependence on western capital and technology.
The author interprets the nature and origins of these far-reaching changes in attitudes and polices and assesses their implications not only for China but for the world systems as a whole. He places recent developments I their historical context and emphasise the subtle but crucial interaction between domestic and external pressures.
Although the study is primarily concerned with the fluctuating triangular relationship between Peking, Moscow and Washington, it also explores the fascinating interaction between national perceptions and internationalist aspirations, particularly in relation to China's Third World diplomacy. In analysing the contemporary period, attention is given to the changing complexion of the Asian balance of power and its implications for China's relations with Japan and Southeast Asia. 
The book is unique in its penetrating and persuasive analysis of the events of the last decade, and makes a major contribution to the study of foreign policy since the revolution. Dr. Camilleri presents his impressive scholarship with a clarity of expression that will make it fully accessible to a wide readership.
Preface        ix
Romanization of Chinese Names       xiii
Map of Southeast Asia        xiv
PART 1 THE REVOLUTIONARY PHASE 1949—68
1.   Perception and Motivation        3
2.   The Sino—American Confrontation         27
3.   The Sino—Soviet Alliance and its Demise       47
4.   China and the Third World      78
PART II THE TRANSITIONAL PHASE 1969—73
5.   The New Balance of Power,
6.   Sino-American Rapprochement
PART III THE POST-REVOLUTIONARY PHASE 1973-
7.   Sino-Japanese Relations
8.   The Politics of Disorder
9.   Ideological conflict and the struggle for power
Epilogue
Notes
Select Bibliography
Index