The State and Nuclear Power: Conflict and Control in the Western World
Joseph A. Camilleri, The State and Nuclear Power:  Conflict and Control in the Western World, Seattle, WA: The University of Washington Press [and Brighton, UK: Wheatsheaf Books], 1984.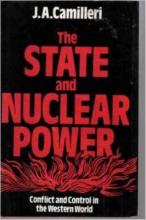 An important and unique contribution to the debate on nuclear power, this major new book provides a comprehensive and systematic analysis of the political, ideological, and economic dimensions of the conflict. It offers the first political study of the nuclear fuel cycle in the light of the complex and often contradictory functions the advanced capitalist state is called upon to per form
Since the late 1960s, the nuclear power controversy has intruded with increasing frequency and intensity into the political process of most Western countries, and has had a greater polarizing effect on the body politic than almost any other technological dispute in this century.
This timely book concentrates on three main areas of investigation: political management, social legitimation, and international regulation. Camilleri examines the scope and limitations of state intervention in all three areas and concludes that such intervention is often less than effective.
In order to achieve greater coherence and insight, the study concentrates on six countries: the United Kingdom, the United States, France, West Germany, Sweden and Brazil. It successfully relates theory to empirical research and provides a unique international and comparative perspective on the crisis of economic and political management con fronting modern capitalism.
Preface     ix
Abbreviations    xv
1.     Origins of the Peaceful Atom
2.     The Emerging Nuclear State       35
3.     The State's Authority under Challenge     75
4.     The State and the Crisis of Legitimacy     107
5.     The Impact of Recession      133
6.     The Politics of the Fuel Cycle       186
7.     International Nuclear Politics       227
8.     Nuclear Power and the Crisis of Capitalism        274
Notes     294
Select Bibliography      330
Index     333