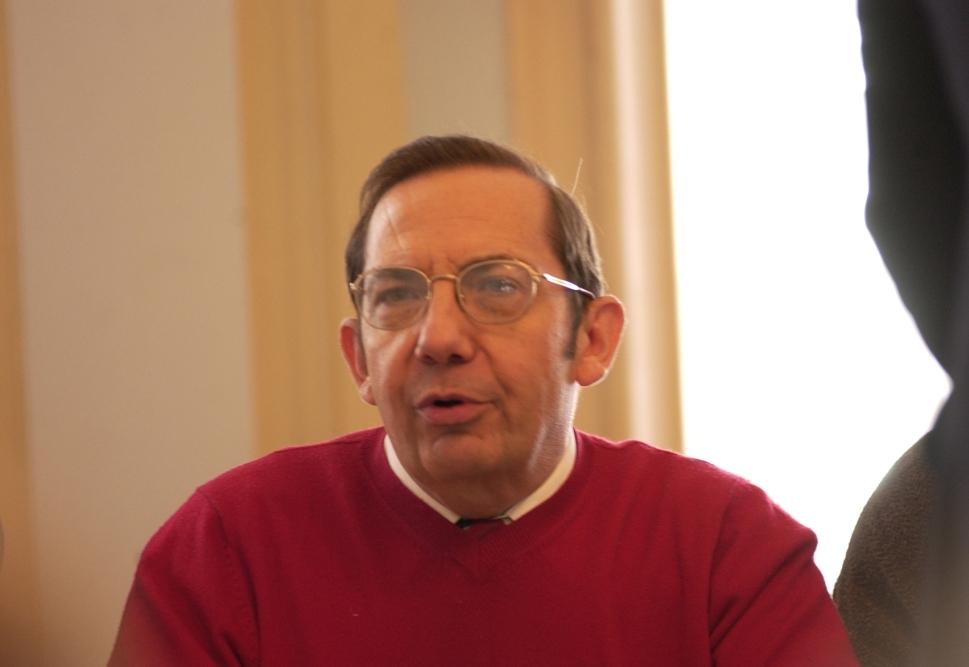 Joseph Camilleri is managing director of Alexandria Agenda, Emeritus Professor at La Trobe University in Melbourne, and a Fellow of the Australian Academy of Social Sciences.
He was born in Alexandria, Egypt where he received his early education. At the age of twelve he left Egypt with his parents who migrated to Melbourne.
He began teaching in the Department of Politics at Monash University, Melbourne in 1967. He pursued his PhD studies as Buxton fellow at the London School of Economics (1969-1972), and then returned to teaching at Monash for another year.
He was appointed Lecturer at La Trobe University, Melbourne in 1973 in the then Department of Politics, and was tasked with introducing the study of International Relations at La Trobe. By the early 1980s he had helped to make La Trobe an important centre for interdisciplinary teaching and research in International Relations.
In a teaching career at La Trobe spanning forty years, he taught some thirty five subjects at either undergraduate or postgraduate level. In 2000 he laid the foundations for what would become the sought after Bachelor of International Relations Degree, and a few years later the Master of International Policy Studies (now Master of International Relations). During this time he supervised more than 35 PhDs and mentored more than 30 international relations scholars who now hold senior academic positions in Australian and international universities and research centres.
In 2005 he founded the La Trobe Centre for Dialogue. Under his leadership, the Centre quickly established a national and international reputation for research, training and policy development. Both the Federal and Victorian governments strongly supported the Centre's work, which focused on the management of cultural and religious diversity within and between countries, especially in the context of tension and conflict.
Joseph Camilleri has authored or edited over 25 books and written some 100 book chapters and journal articles. Though his writings cover a wider range of subjects within the broad field of International Relations, his research has centred on five key areas: security studies, international political economy, international political theory, the foreign policies of the great powers, and the international relations of the Asia-Pacific region. Perhaps his most important contribution has been to shed new light on the complexities of governance in an era of rapid transition. Two notable works in this area are The End of Sovereignty? (1992) and Worlds in Transition: Evolving Governance Across a Stressed Planet (2009), both co-authored with Jim Falk.
Over the past ten years Camilleri has convened some 20 major international dialogues and conferences, and appeared before several parliamentary and government inquiries, most recently the parliamentary inquiry into Multiculturalism in Australia in 2013. He serves on several advisory boards and chairs the Editorial Board of the scholarly journal Global Change, Peace and Security.
He has provided regular advice and intellectual support (through guest lectures, forums, workshops, briefing papers and board membership) to a range of governmental and community organisations, including the Victorian Government, the Australian Department of Foreign Affairs and Trade, the Institute of Diplomacy and Foreign Relations in the Malaysian Ministry of Foreign Affairs, local government bodies, Focus on the Global South, the Toda Institute for Peace and Global Policy Research, Pax Christi International, as well as public affairs and educational media programs. He is Adviser to Ideapod, a new web-based initiative aimed at harnessing the power of ideas.
He has given lectures and keynote addresses around Australia and in the United States, United Kingdom, Canada, Sweden, Norway, France, Italy, Japan, China, Indonesia, Malaysia, the Philippines, India and New Zealand.
From an early age Camilleri has assumed leadership roles in a number of community, cultural and political organizations. In the 1960s he was actively involved in the Catholic Young Men's Society, of which he became president in 1967. In this role he helped develop a wide-ranging educational programme for the spiritual and social formation of Christian young adults. While pursuing his PhD studies at the London School of Economics he became involved in the Pax Christi movement, an international peace organization established after World War II to foster reconciliation between France and Germany. In 1970 he became Pax Christi Secretary in England, working closely with Pax Christi and London University Chaplain Bruce Kent. He assumed a coordinating role for the organisation of the 1970 Pax Christi International Congress held in London.
During his stay in England, he was appointed secretary of the Peace Committee of the Catholic Justice and Peace Commission in England, established the Campaign against Arms Sales to South Africa, and was founding convener of the British Campaign for Justice in Rhodesia. Together with Dennis Brutus he visited a number of African countries to lobby governments to support the international boycott of South African participation in international sport. He was actively involved in international efforts to bring the Vietnam War to an end, and took part in a number of initiatives to promote reconciliation between Catholics and Protestants in Northern Ireland.
On his return to Australia he helped establish Aboriginal Action (now Action for Aboriginal Rights), a white support group committed to justice and self-determination for indigenous Australians. He served as founding convener of Aboriginal Action from 1973 to 1983. In 1974 he helped to establish Pax Christi in Australia, which from its inception, functioned as an ecumenical peace movement. He served as its first president for over thirty years.
In the mid-1970s he took an increasingly public stance in support of nuclear disarmament and opposition to the expansion of nuclear power. This was one of the key considerations that prompted him to provide evidence as an expert witness to the Ranger Uranium Environmental Inquiry, to convene the Movement Against Uranium Mining in the late 1970s, and serve on the Council of the Australian Conservation Foundation.
As international tensions rose and the nuclear arms race between the United States and the Soviet Union intensified in the late 1970s, he became an increasingly vocal advocate of nuclear disarmament. In Australia he helped establish and was founding convener of People for Nuclear Disarmament, the umbrella organization which spearheaded the call for an end to the Cold War and organised the large Palm Sunday rallies in the early to mid-1980s.
Having joined the Australian Labor Party in 1979, and having served on several of its policy committees, he resigned in 1986 in the light of the failure of the Labor government to give effect to several of the Party's foreign, social and economic policies. In 1987 he was instrumental in the formation of the Rainbow Alliance, a political/cultural movement that developed over a period of seven years an extensive educational programme, networked with many groups in Australia and overseas, and participated in numerous campaigns on such issues as climate change, Native Title, the Republic, and economic and foreign policy.
Joseph Camilleri is the recipient of several national and international awards, including the St Michael's Award for distinguished service to the community, the Victorian Premier's Award for his contribution to Community Harmony, and the Order of Australia Medal for service to the community and to International Relations as scholar, educator and advocate.