Asia-Pacific Geopolitics: Hegemony vs Human Security
Joseph Camilleri, Larry Marshall, M. S. Michael and M. T. Seigel (eds), Asia-Pacific Geopolitics: Hegemony vs Human Security, Cheltenham, UK: Edward Elgar, 2007, xiv + 247 pp.
An earlier edition was published in Japanese:
Michael Siegel and Joseph Camilleri (eds), Caught between Multilateralism and Alliance: Japan and Australia at the Crossroads (in Japanese). Tokyo: Kokusai Chon, 2006, 305 pp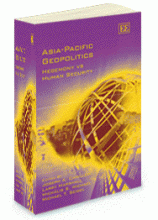 This book is a probing reassessment of security prospects for the Asia-Pacific region centred on an analysis of three key notions: hegemonic power, human security and multilateralism.

The post-September 11 world is steadily moving towards multipolarity as the hegemon's authority declines. The UN is at a pivotal moment in its history and middle powers like Japan and Australia will no doubt help to shape its future. Furthermore, China's star is rising and the region has to contend with all the ramifications of this complex reality. 

The book defines human security as a concept that offers the international community a broader philosophical and political purpose and gives substance to the emerging regional and global multilateralism. It poses perhaps the two most intriguing and critical questions of the moment: can civil society and epistemic communities, operating across cultural and civil boundaries, play a more influential role in defining the goals and processes of regional cooperation in Asia Pacific? and can states, multilateral organisations and civil society develop a more effective partnership in pursuit of these goals?

This book brings together distinguished scholars and experts on public policy, social ethics, defence, human security and sustainability to consider the future of the Asia-Pacific region and appropriate responses by both states and civil society. It will appeal to scholars and researchers of international relations, politics and Asian studies as well as policymakers in the region.
Preface

Introduction
1. Hegemony and Human Security: Competing Principles of Regional Order
Michális S. Michael and Larry Marshall

PART I: HEGEMONY AND EAST ASIA RELATIONS
2. Hegemony, Perilous Empire and Human Security
Mustapha Kamal Pasha

3. Still Anchoring an American Asia Pacific?
Nick Bisley

4. Containing China: A Flawed Agenda
Chandra Muzaffar

PART II: JAPAN'S SECURITY DILEMMA
5. Questioning the Rationale for Changing Japan's Peace Constitution
Michael T. Seigel

6. Can Japan Create a Basis for its Internationality?
Jiro Yamaguchi

7. Beyond the Japanese Constitutional Dilemmas
Yoshikazu Sakamoto

PART III: JAPAN AND AUSTRALIA: A MORE CONSTRUCTIVE ROLE FOR MIDDLE POWERS
8. Japan, Australia and the UN Disarmament Agenda
Michael Hamel-Green

9. Japan, Australian and Niche Diplomacy in the South Pacific
Allan Patience

PART IV: GLOBAL GOVERNANCE AND SUSTAINABILITY
10. The Role of the United Nations in the Twenty-first Century
Tetsuya Yamada

11. Foreign Policy in Search of a Sustainable World
Shigeko Fukai

Conclusion
12. Between Alliance and Regional Engagement: Current Realities and Future Possibilities 
Joseph A. Camilleri