The State in Transition: Reimagining Political Space
Joseph A. Camilleri Anthony P. Jarvis and Albert Paolini (eds), The State in Transition: Reimagining Political Space, Boulder, Co: Lynne Rienner, 1995, vii+241 pp .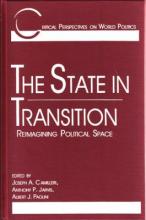 Until recently, the bounded, territorial, and sovereign state has been the foundation of modern understandings of political space. Now, however, as the patterns of world politics undergo major transformations through the competing processes of global integration and fragmentation, we are faced with the problem of how to conceptualize new and complex relationships. Further, addressing this problem requires a rethinking of the very categories we use in understanding local, national, and international politics and a reimagining of the nature of political space itself.
This book explores these issues conceptually and through case studies. The authors deal with the problem of identity and political space, analyze in detail the impact on the state of a globalized political space, and conclude with an effort to locate the state in these various developments and to characterize its trajectory as it struggles to adapt and survive.
Part 1. THE PROBLEM OF THE STATE.
Locating the State—A.P. Jarvis and A.J. Paolini.
From International Relations to World Politics—R.B.J. Walker.
Part 2. IDENTITY AND POLITICAL SPACE.
3. Nationalism in/and Modernity—S. Seth.
4. Rethinking the State of the Nation—I. Veit-Brause.
5. The Authentic State: History and Tradition in the Ideology of Ethnonationalism—S. Lawson.
6. The Stars on China's Flag: Appropriating the Universe for the Nation—J. Fitzgerald.
7. State, Civil Society, and the Political Subject in a Divided Society: Reimagining Political Relations in Northern Ireland—J.D. Cash.
8. Inadequate Providers? A Gendered Analysis of States and Security—J.A. Tickner.
Part 3. GLOBALIZATION AND POLITICAL SPACE.
9. Problematic Paradigm: Liberalism and the Global Order—J.L. Richardson. 
10. Symptoms of Globalization: Or, Mapping Reflexivity in the Postmodern Age—A.M. Elliot.
11. Manipulating Space in a Postcolonial State: The Case of Malaysia—L. Wong and B. Blaskett.
12. The World Economy and An Economically Active State: From Economic Radicalism to Neoliberalism in Mexico—S. R. Niblo.
Part 4. REFLECTIONS ON THE STATE IN TRANSITION.
13. State, Civil Society, and Economy—J.A. Camilleri.